Rohit Sharma hides steely determination inside his affable personality. His batting style has an unhurried flow but its impact is devastating. His strokes are silky but his intention is to inflict as much damage as he can on the opposition. He gives the impression of being a gentle assassin, but just ask the bowlers who have been victims of Rohit's rapier. They will tell you about the hardships he has inflicted upon them.
At Rajkot on Thursday, Rohit, the stand-in captain, needed to guide the team to a resounding victory in the second T20I against Bangladesh to make up for the frustrating loss in the first game. He took it upon himself to show who is the boss with a 43-ball 85 which gave India an eight-wicket victory over their neighbours.
For Rohit, one of the greats of limited-overs batting, the Rajkot tie was special — it was his 100th T20I game which made him the first Indian male player to reach the milestone.
Rohit's Rajkot blitzkrieg has come on the back of his stellar show in the recent Test series against South Africa, in which he stroked over 500 runs in the three-match series. He is in the midst of one of the most productive phases of his 12-year-old international career, making the experts as well as fans drool over his exploits. He himself admitted "the year 2019 has been very good so far." Now, the sky is the limit for the precociously talented batsman, who took time to add maturity and consistency to his art and talent.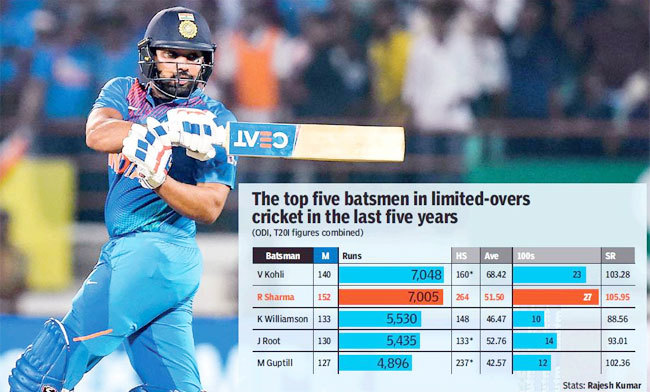 In the last five years, Rohit has come into his own and has almost matched Virat Kohli, the king of limited-overs cricket, for impact and substance. If one combines the ODIs and T20I numbers of the last five years, Kohli stands above everyone else with a total of 7048 in 140 matches at an average of 68.42 and a strike rate of 103.28.
In the same period, Rohit has 7005 runs in 152 games with an average of 51.50 and a strike rate of 105.95. What has pushed Kohli's average well above Rohit's is the number of not-outs he has achieved in this period — 33 to Rohit's 14. Both have 23 hundreds in ODIs in this period but Rohit also has four T20 tons to Kohli's none. Rohit is also well ahead of other top batsmen in hitting sixes — he has smashed an astounding 254 of them.
In good spirits after the Rajkot triumph, Rohit told Yuzvendra Chahal, the most sparsely-built member of the Indian team, that even he (Chahal) could hit sixes Rohit belts with such uncanny regularity. "You don't need muscles to hit sixes," he told Chahal. "In any case, sixes are not just about power but also timing. Head should be still, position should be good. All this will ensure that you hit sixes."
Rohit's knock drew hosannas from another opener who had the same destructive impact on bowlers, former India star Virender Sehwag. "Hitting 3-4 sixes in an over or scoring 80-90 runs off 45 balls is an art that I haven't even seen (Virat) Kohli pull off as regularly as Rohit," Sehwag analysed while speaking to Cricbuzz.